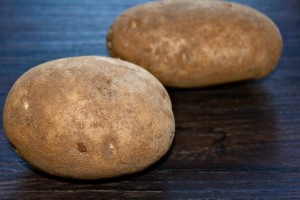 Oh potato gnocchi!!  You don't bring me the good memory that you should…but it is a memory…and kind of funny too although it didn't seem to be at the time!
Kevin and I had just gotten married and moved in Mr Daniel's flat where we just had the essentials…couple of pots and pans, a kettle, two plates and two mugs!  It was all we needed.  We ate out the first few nights…but then I wanted to show my new husband what I could do.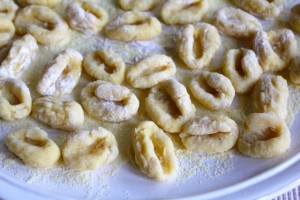 I remembered an Italian friend had made these delicious gnocchi for a group of us once.  He was like the maestro on one side ofthe table, with a bunch of girls surrounding him, watching him orchestrate this magnificent dish.  It looked so easy…but then so does gymnastics and ice skating.
So that was it…that's what I'd make for our first dinner I thought, as I set about this joyful task!  I worked and slaved all day long in the kitchen while my new husband was slaving away at his job. And then the moment of truth!  I boiled the gnocchi  I'd made, but no amount of sauce could hide the mess underneath!  I was in tears!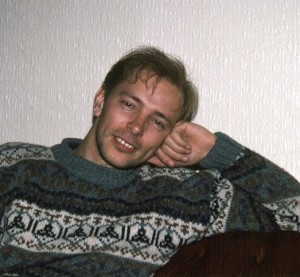 My lovely husband sat down and got ready for his meal and just like the trooper he's always been and still is, he put that first bite in his mouth and with a smile told me how good it was!!  He never did make it to the second bite though because  I snatched it from his hand, and took the plate from the table and with a whoosh, and a few sobs,  they ended down the toilet!  He still does not know what he had said to get that reaction from me and still insists to this day, that they were jolly good gnocchi…but wouldn't you say that to your new wife?
So it's been 20 yrs since that fateful day!!  I never made them again and still get the shivers when I hear the word GNOCCHI!! But since I have a blog, and since it's our 20th Wedding Anniversary today, I think it's about time I gave it another go, this time with the help of foodnetwork.
Ingredients
Kosher salt
1 pound russet potatoes (two medium sized potatoes)
3 to 4 large egg yolks
1/2 cup freshly grated Parmesan
1/4 teaspoon freshly grated nutmeg
1/2 teaspoon gray salt
1/4 teaspoon freshly ground black pepper
1 cup all purpose flour
Directions
Preheat oven 425 degrees.  Bake the potatoes for about 45 mins.
When cool enough to handle, take off the skins and grate the potatoes in a bowl.  You should have about two cups.
Add the rest of the ingredients and form into a ball.  Let rest for half an hour.
Keeping your work surface and the dough lightly floured, cut the dough into 4 pieces. Roll each piece into a rope about 1/2-inch in diameter. Cut into 1/2-inch-long pieces. Lightly flour the gnocchi as you cut them. Roll each piece into a ball.
Using the back of a grater, roll each piece down the back.  This creates a rough surface for the sauce to cling to.  Do this with each piece. Place on a well floured (or well sprinkled with semolina).
At this point you can freeze them.
Or if you want to cook on the same day, you need to let dry for about half an hour under a fan.  Turn each one and let dry for another half an hour.
When ready to cook, bring a large pot of water to a boil and add salt. Drop in the gnocchi and cook for about 90 seconds from the time they rise to the surface. Remove the cooked gnocchi with a skimmer, shake off the excess water, and serve as desired.
Delicious with tomato sauce and I'm sure it's just as nice with just butter and cheese and some herbs of your liking.
This time, I must say, the gnocchi got two thumbs up.  Not just from Kevin…but also from me:)  I wish I hadn't waited 20 years to try these again.  I will sure not wait another 20!! Happy Anniversary my qalbi…here's to many many more!! Love you with all my heart!