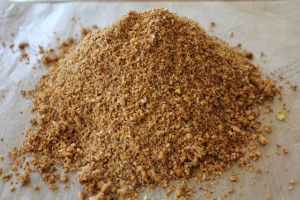 I know right??  I had never heard of it before either…
It so happened that I was in a chat with a group of friends comparing things we love that are made with nuts.  Lots of sweet pastries and cookies were mentioned in our conversation and then Dukkah came up!  My ears perked up and I had to know what it was.
Turns out, Dukkah (pronounced DOO-kah) is an  Egyptian spice blend of toasted nuts and seeds that can be served as a dip with bread and olive oil, or sprinkled on roasted vegetables, pasta, feta cheese, and even peaches.  My friend Leslie also uses it as a thickening for sauces…so with so many uses, I say this is a must have in every kitchen.
It is easy to make at home but if you're in a rush or something, you can also find it at Trader Joe's.
Here's my own version…
For Dukkah:
1/4 cup hazelnuts, toasted
1/4 cup pistachios, toasted
1/4 cup almonds, toasted
1/4 cup pine nuts, toasted
5 teaspoons coriander seeds
4 teaspoons sesame seeds
1 tablespoon cumin seeds
1 teaspoon whole black peppercorns
1/2 teaspoon fennel seeds
1 tablespoon paprika (hot or sweet)
1/2 teaspoon ground cinnamon
kosher salt to taste
To make dukkah: toast nuts together in a 350° F oven for 7 to 10 minutes, stirring occasionally, until just golden and fragrant.  Let cool to room temperature.  Meanwhile, toast remaining spices (except for paprika, cinnamon, and salt) in a large pan over medium heat for 5 to 8 minutes, or until fragrant and toasted.  In a food processor or an electric coffee or spice grinder, pulse all ingredients until very finely ground, about 3 minutes.  Leave a little powdery; do not grind to a paste. Refrigerate to store because nuts do go rancid after a while.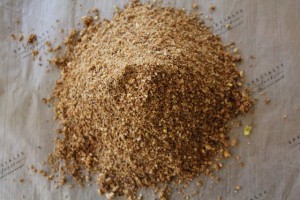 To try it out, I made my ftira.  I rolled out a piece of dough about 6 inches across and as thin as possible.  I drizzled some oil and liberally sprinkled some dukkah and a dash of kosher salt on top.  I baked at 425 degree oven for 5 mins.  Rotated the pan and baked for a further 5 mins.  It's ready when it baked golden colour.
Next time, I might leave some of the sesame seeds whole and also add a touch of chili or cayenne pepper to the mix…