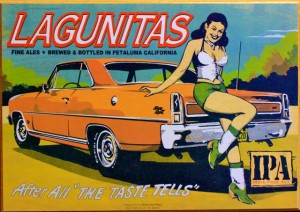 Last weekend we went to Petaluma.  We'd only been talking about going for about four years!  But now that the kids are older and can be trusted not to burn the house down, well, we thought an overnight stay, just the two of us, would  be a good thing.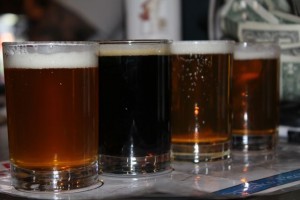 What made the occasion a must this time round, was that it was Kevin's b'day. His wish was to go to his favourite brewery in the whole wide world and as luck would have it, it's only a couple of hours away.  So, just like I celebrated my b'day with my favourite goats, it was only fair that he should celebrate it with his favourite beer!
Having lived here for so long,  I'm still surprised at how much there is still left to see and experience! I was totally delighted by what Petaluma had to offer.   Nobody has ever said that this place is a must see, so my expectancies were kinda low.  Besides, I honestly thought that the whole weekend was only going to about beer and more beer.   But when we started walking around town and saw the cute little antique shops and people just lapping up the sun outside the charming Bistros,  I wanted to stop and savour every minute.  We couldn't have asked for a more beautiful day either.  The sky was blue and the air was warm…and what was that????  Is that French I hear??
Sacre Bleu!! It was!!   It seemed to me that for the most part, the locals were actually french! I could catch snippets of french conversations going on at every corner and bar!  And with French music playing in the air and french decor in every restaurant, I felt like I had just stepped into Woody Allen's Midnight In Paris!  And I fell in love!!
I had almost booked us a room at a Days Inn or Best Western, as Kevin's only priority was that we were close enough to Lagunitas Brewery so he could have his pint and drink it…literally…and not worry about the driving part.  So I almost did not see this quaint little Metro Hotel just down the road from Petaluma's Town Center.  It was perfect!! The french decor just added to our french experience and next time we go…and I'm pretty sure there will be a next time…we will definitely stay there again.
The Lagunitas Tour was also very entertaining. We could hear the boisterous laughter from the parking lot which became louder and louder and more enticing as we neared the entrance of the bar!  It was full…the inside bar, the outside beer garden…pretty much every space was taken…but for a tiny corner  at the end of the room.  We sampled some beer while we waited for our tour…well one of us did…and then were led to where the magic happens.
Before we left, we paid a visit to Sonoma which is another very interesting and charming town.  You find anything from Cheese Shops to Hat Shops, and Pottery Shops to Restaurants.
Maybe it was because it was our first get away together with no kids in like ever…but what a marvelous weekend that was…and we both hope to return very very soon!
Happy Birthday Kevin!!