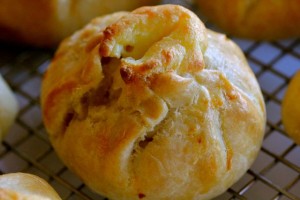 Two very popular snacks in Malta are Qassatat and Pastizzi.  You can call them cousins with pastizzi being the posher or richer of the two.  I find qassatat are the easier ones to make so we'll be tackling that one first and then later on, we'll try our hand at making pastizzi.
There's all sort of different fillings you can use for the qassatat and ricotta ones seem to be the most favoured.  You can add raisins or sauteed onions or fresh fava beans with the ricotta.  These types of fillings are sought after during Lent when it's customary to fast.
Other types of fillings include meat and anchovies, but really, you can make as many types of filling as your creativity and taste will take you.
So this is your basic Ricotta Qassatat Recipe
Dough
1 lb all purpose flour
8 oz chilled butter cut up in cubes
1 egg (optional)
pinch of salt
about 1/2 cup water
Start by putting the flour and butter and salt in your stand mixer and work it until it looks like breadcrumbs.
Add the egg and water and knead until it comes together.
Take it out and knead it into a ball and let it rest at room temperature for about half an hour.
Filling
1lb ricotta
2 eggs
pinch of salt
1/2 cup grated pecorino romano cheese (optional)

Some ricotta is more creamy than others and you might only need one egg…so use your judgement.  The filling should not be too liquidy or it would ooze out of the dough.

Put all the ingredients together and stir vigorously.
Qassatat
Roll half the dough into two long ropes about two inches thick and cut it up into two inch chunks.
Take one piece and open it up into a circle about 3-4 inch diameter depending on how big you like them.
Put a dollop of the ricotta mixture in the middle.
Take the outside of the dough and start pleating while turning the dough about an inch each time until you get to the first pleat.
Continue this until you've used up the dough and ricotta.
Brush on a bit of egg wash.
Bake at 400 degree oven for about half an hour depending on your oven until they're golden brown