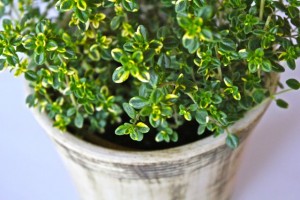 Chèvre (pronounced shĕv·rǝ) is French for goat and refers to any cheese made from goats milk.  Fresh (not aged) chèvre is usually just referred to as chèvre.
Yesterday I was thrilled to find out that a gallon of goat's milk makes 1 1/2lb of cheese!  Well,  that thrill quickly changed to panic when I realised that it only keeps for about a week!
So I set about looking for ways to preserve the cheese in any way or form, and after hours of searching, I came across this site that shows how to stretch that week to a month!!
Today I decided to try the Chèvre Marinated with Pine Nuts, Thyme and Orange.  I intend to try the cherry and walnut one too and a combination of sun dried tomatoes with chili and garlic might be nice! I think that would take care of my batch of cheese for the coming weeks!
Of course you don't have to make your own Chèvre to make this recipe…store bought will do just as nicely.
Chèvre Marinated with Pine Nuts, Thyme and Orange
Makes 8 ounces
Extra-virgin olive oil
4 ounces chèvre, sliced or rolled into balls
2 tablespoons toasted pine nuts
1 tablespoon thinly sliced orange zest
4 sprigs fresh thyme
Pour a touch of olive oil into the jar. Layer the chèvre with pine nuts and orange zest. Tuck in the thyme sprigs along the sides and add enough olive oil to cover.
I can't wait to try it after it's been marinading a while!