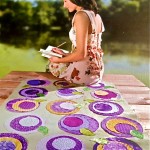 Here's a calorie free project for you to try. It is simple and cute and it is also a no sew project…now we're talking!!
The hardest part for me was choosing the fabric and it took me three visits to Jo-Ann Fabric store.  Each time I would load up the cart with numerous different rolls of fabric…walk around for about three hours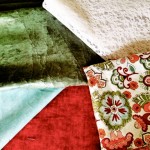 until I felt nauseous and then when I couldn't take it anymore,  I would walk out with nothing.  I thought for sure I was going to have my picture on the "Unwelcome Customers Wall" by the end of it.
But then my friend Rose came to the rescue and between the two of us, we ended up choosing this combo. These, plus a few more scraps I had at home, ended up being more than enough.
 Here's the recipe 
1 yard Crypton home decor fabric
Calico Fat Quarters  8-12 purple, 3 gold, 3 green
1 pkg HeatnBond Lite
Poster Board Circle Templates 8″, 7 1/4″, 6″, 5 1/4″, 4″, 3 1/4″
Pressing cloth
Scrap of poster board for leaf pattern
Directions
From Crypton Fabric, cut 30″ x 42″ rectangle. Round the corners by tracing around with small plate.  Cut off square corners.  St Fabric aside.
Flower consists of 3 calico fabric circles, 8″, 6″ and 4″.  Cut 15 circles of each size from purple and gold fat quarters.
From HeatnBond, cut 15 circles of each size, 7 1/4″, 5 1/4″ &  3 1/4 "
Follow manufacturer's insturctions to fuse HeatnBond circles to back of calico circles; leave 1/4″ raw edge around. Peel off paper backing; arrange circles on RS fabric rectangle. Using press cloth, fuse circles in place.
Make two leaf patterns on poster board scrap.  Cut one pattern 1/4″ smaller all around. Cut 17-20 HeatnBond  leaves from smaller pattern and cut the same number of green fabric leaves from the larger pattern.  Fuse the HeatnBond leaves to the back of the leaf fabric, leaving 1/4″ raw edge all around.  Peel off paper backing; position into place; fuse in place.
Stitch around each fused leaf and flower circle 1/4″ fro raw edge.
Rub edges of flowers and leaves with toothbrush for a soft, raveled look.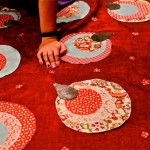 It took me about four days to make from start to finish.  Now I want to go on a picnic…