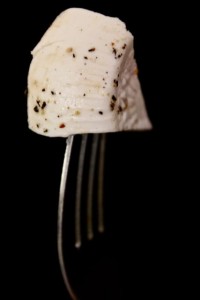 I didn't know I missed gbejniet until my dear friend Mary shared some with me a few years ago.
Mary was the first Maltese person I met when we first moved to the Bay Area.  In 1996, the internet was still in the early stages and there was hardly any information or even links to Malta.  The only source of interest at the time was a "chat room" for Maltese people.
Feeling very homesick, I left a message in this chat room to see if there were any other Maltese people in the area. A few days later I found a message from Mary and the best thing was that she lived only about half hour away from me.  We soon realised that her husband Tom used to play soccer with my uncle Guz when they were kids!! That's how small Malta is.
I've known Mary now over 15 years and we chat and visit regularly!  We share recipes and I love going over her house to to catch up and visit her lovely garden which is like stepping into a Maltese Giardina with caper bushes and prickly pears. I think the only thing that's missing is a Bambinella Tree…I'm still hoping!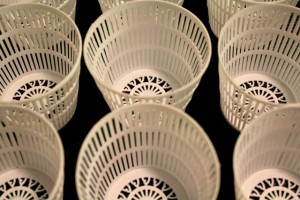 So this is a recipe she so graciously shared with me.  I've tried to tweak it a few times.  I tried adding yoghurt and once I tried adding cream.  I've made it with whole milk and with goats milk.  Sheep's milk would be ideal…but I gave up  trying to find some to buy a long time ago.
You do need these cute little gbejniet baskets called Qwieleb.  I believe there are a few online websites who carry them.  They're 3 inches in diameter and 2 1/2 inches in height.
It is very important that you do NOT use ultra pasteurised milk or homogenised milk when you are making gbejniet. Ultra-pasteurization heats the milk to 280 degrees, effectively killing any micro-organisms in the milk. You want these microbes in the milk in order for the cheese to curdle properly and for the final cheese product to actually have flavor.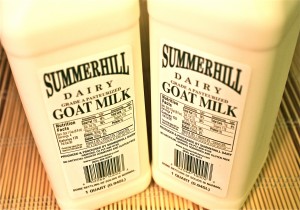 This recipe will yield about 8 Gbejniet.
Ingredients
2 litres of Goat's Milk
1 cup low fat milk powder
2 Rennet Junkets
2 tbsp water
salt
Directions
First you need to sterilise all equipment.
Heat the milk with the milk powder in a non reactive pot on low and stir until the milk powder is dissolved.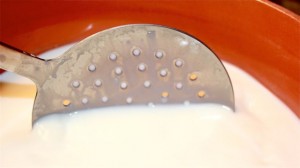 Add 2 tblsp of water to the rennets and stir until dissolved and set aside.
When the milk temperature reaches 98 degrees, take it off the heat.
Add the rennet tablet mixture to the milk and stir briefly.
Cover and let set at room temperature for about 3 hours.
In the meantime, prepare a draining container with the baskets on top.
Ladle the curd into the baskets and let drain overnight.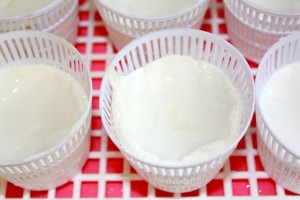 (You can pour the collected whey in a glass container and  store in the refrigerator. You can use this instead of the water for the ftira and maltese bread.)
Next morning, flip the cheese and put them  back in the baskets and let them continue to drain overnight.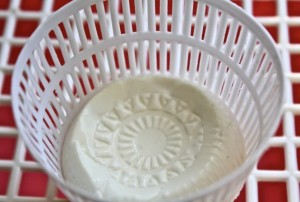 Cover with a net.
Next morning, making sure that they're strong enough to handle, take them out of the baskets and sprinkle about 1/4 tsp salt all over and around each gbejna and let drip for a few hours more.  Make sure to always keep them covered in case of bugs.
 If you like them dried and peppered…you can do this at this stage.  Grind some pepper in the plate and pat each gbejna into the pepper and cover all over and let them dry for another day (always depending on how hot and dry the day is…please use your judgement).
I don't like a lot of pepper, so I let them air dry without the pepper.  That's the good thing about a recipe…you can adjust and substitute to your liking.
Here they are drying before being soaked into the vinegar.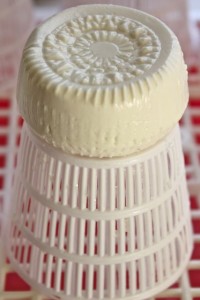 Here they've been dried for a couple of days indoors.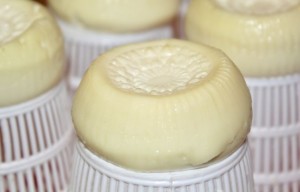 I then fill a bowl with pickle vinegar and let them soak for 2-3 hours. You can use a vinegar of your choice.
Store them in a sterilised jar.  I add about 2 tbsp of vinegar and olive oil and a bit more pepper.  Some people cover them in vinegar.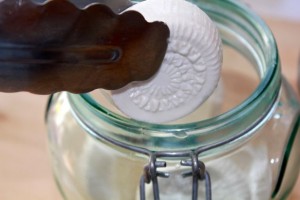 I like to store them in the fridge and give them a good shake every now and again.
The great thing about gbejniet is that they are tasty at any stage.  They are delicious fresh after you flip them.  They go well with toasted bread and butter or in Soppa ta' l-Armla (Widow's Soup).  Personally I like them after they'd been dried and soaked in vinegar.  Love them on my ftira with tomato paste and olive oil!
Happy Cheese Making!