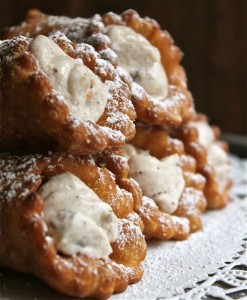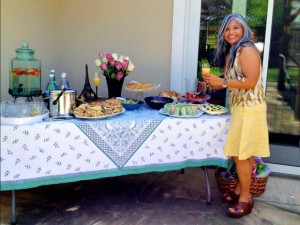 This recipe has been in my to do list for about three months and the reason I had not attempted it before now is because it is a recipe shared with me by my very talented baker friend Rose and I was so blown away by the taste and presentation of her Cannoli that I felt a bit intimidated to try them myself in case I did not do it justice.
But now that the kids are off from school and I have a lot more time on my hands, I thought I'd give it a try and hope hope hope that I make them half as good as you Rose!
I am probably the only living soul on this planet that is not crazy about cannolis. I love ricotta but mainly in savoury  dishes and find ricotta desserts to  be a bit too heavy for my liking.
So when offered dessert at one of our get togethers at Rose's house, I opted for the fruit salad, but couldn't help eyeing the cannoli which were on the top tier of the dessert stand looking down on the other pastries acting holier than thou. But as I reached over for a taste, it took me all of two seconds to realise why.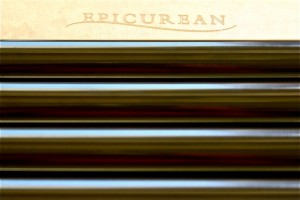 Cannoli Shells
1 3/4 cups all purpose flour
2 tbsp sugar
1/2 tsp salt
2 tbsp butter
1 egg slightly beaten
1/4 cup Sauterne wine
egg white + tbsp of water
Cut in the 2 tbsp cold butter in with the flour, sugar and salt.
Add 1 egg slightly beaten.
Add the wine and form into a dough.
Roll out the dough to a 5 setting on the pasta machine.  If you don't have a pasta machine, then roll the dough quite thin, as you would ravioli.
Cut dough into 4″ circles and form loosely onto metal tubes.
Beat the egg white and brush the ends of the dough to glue the ends making sure not to get any on the metal tube. Make sure you seal properly.
Deep fry in melted Crisco when it reaches 400 degrees, until golden brown and drain the shells on paper towels.
These make about 30 shells depending on how big you make them.
Cannoli Filling
2lbs ricotta
2-4 tbsp powdered sugar to taste
2 tsp vanilla
1/2 cup chopped orange candied peel
1/2 cup chopped candied citron peel
1/2 cup chopped good quality milk or dark chocolate
1-2 drops of cinnamon oil or to taste
Mix all the ingredients until well combined
To assemble Cannolis :
Pipe or spoon ricotta filling into the shells and sprinkle powdered sugar on top.
Perfect dessert to have on hand when you're hosting a dinner because you can prepare both the shells and ricotta ahead of time and assemble them just before dessert time.
Thank you Rose!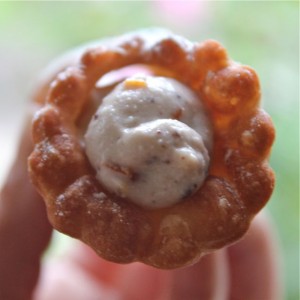 Cannoli Tips :
I did not have cinnamon oil so I used ground cinnamon instead.  I hear it makes a difference and it's on my list of things to add to my baking ingredients for sure. Some people prefer the taste of Fiori di Sicilia…I still have to try that one too.  Apparently it's a wonderful addition to a lot of baked goods.
Do yourselves a favour and make sure to use egg whites to seal the cannoli dough before you fry them cause they do unfurl if you don't.
Another tip is, that if you have a pasta machine, USE it.  It gives the cannoli perfect thickness and consistency.  I was a bit lazy to take mine out at first and tried to roll it out with a rolling pin.  It worked ok…BUT towards the end, I decided to use the machine and and realised how much better the shells turned out.
I fried the shells one at a time as they brown really quick and a few seconds makes all the difference between golden brown to charcoal black.
If you made the ricotta from scratch, do not let it drip too dry.  If that happens, add some whey to make it creamy.
If it's not sweet enough, add more sugar to taste.
Follow all this and you'll be left with cannolis to be proud of…