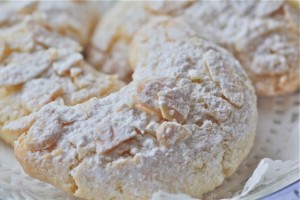 Aaron once asked me if almonds were a national source of income in Malta.  I wondered how he'd come to that conclusion until he pointed out that the desserts I tend to make always have some kind of  almonds or marzipan in them.  It is quite true that I do do that, but I think the reason why I love working with almonds so much is because they are so darn good.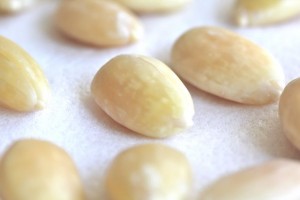 Pastini Di Mandorla means Almond Cookie and it is another recipe I love to make from the book by Edward Calleja Success Bil-Helu 2, the other one being Pastini Bic-Cirasa…not only because they are super delicious, but also because they are a cinch to make.  

They require only one egg white, which means, you're not left wondering what to do with so many  left over egg yolks.  Even better,  if you use liquid egg whites, then you're left with no egg yolks at all!!
Also, as opposed to other almond cookies, these require no drying time at all…so if you fancy these cookies at 2pm, you can be happily eating them by 3pm.
Ingredients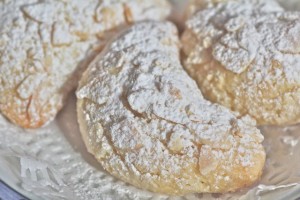 200g pure ground almond
200g powdered sugar
zest of a lemon
one egg
one tsp almond essence
one egg white beaten for dipping
about 3/4 slivered almonds to use as topping
rice paper (optional if you use a silpat)
Method
Preheat the oven to 350 degrees
Place the rice paper if using, on the baking dish.
Mix all the ingredients except for the slivered almonds together in a bowl to form a ball.  Do not be tempted to add more liquid as this is supposed to be on a dry side. If you add more liquid, the cookies will flatten and you don't want that.  If you see that the result is too sticky, add more ground almonds.
Cut the mixture into four equal pieces. Roll into four long ropes.  Cut into two inch pieces.
Form into crescents.
Beat the egg white in a small bowl.  Place the slivered almonds in a flat plate.
Dip the crescents in the egg white, then again in the slivered almonds and then place on the prepared baking dish.
Bake for 15 mins until just golden.
Cool on wire tray and sprinkle some powdered sugar for presentation.
Next time I see Aaron, I'll be making these for him!